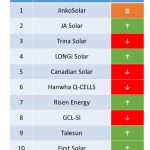 TOP 10 Solar Modul Producer in 2018 Game
from PV-Tech.org While JinkoSolar's position as leading global module supplier during 2018 was barely in doubt during the year, the most interesting changes were seen across the remaining companies in the rankings table above.
JA Solar established itself as JinkoSolar's closest rival globally, with the two companies having made strong investments into mono PERC and being firmly committed to Southeast Asia manufacturing hubs to complement Chinese factories.
Trina Solar saw its ranking fall in 2018, as the company went through a year of adjustment coupled with cost savings exercises. However, a strong second-half maintained top 3 status for the company.
LONGi was another winner in 2018, with a strong company focus on seeking non-Chinese module supply growth in most major end-markets. This strategy is expected to continue during 2019.
Hanwha Q-CELLS saw its ranking fall in 2018, with the company adjusting to previous Section 201 implications for US shipments, technology upgrades to lines in China, and a less ambitious growth trajectory that overlapped with its going-private actions during the year.
TOP 10 Photovoltaik Module + Datasheet
1. Jinko 380 Bifacial
2. Ja Solar 375 Bifacial Mono PERC
3. Trina Duomax 375 Watt bifacial
4. Longi 375 Watt bifacial
5. Canadian Solar-Datasheet KuDymond MBB
6. Hanwha Q CELLS DUO-G5 330 Watt
7. Risen Energy half cut bifacial 390
8. GCL M 375 Watt
9. Talesun HIPRO III TP660M
10. First Solar 445 Watt
Squaremeter to Watt to kWh to EUR Calculator
Energy in kilowatt-hours (kWh) of force in Watts (W) Calculator and calculation formula.
First select your photovoltaic modules and the suns full load in hours and press the Calculate button: