via Solar Plant Business | Sanki Kohmuten, which installs solar power generation facilities, announced that it will harvest Shiitake mushrooms grown by "solar sharing" and have an event to thank concerned parties Nov 6, 2016.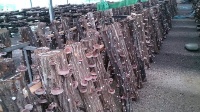 The company placed about 5,500 logs to grow Shiitake mushrooms under about 290kW of solar panels.
In 2015, Sanki Kohmuten (Komaki City, Aichi Prefecture) started to grow Shiitake mushrooms by using a solar sharing method and the temporal land conversion permission of Article 4 of the Agricultural Land Law for the first time in Aichi Prefecture. In the fall of 2016, the Shiitake mushrooms grown under the solar panels became ready for harvest, and the company decided to harvest them with local concerned parties.
The project site was formerly an abandoned agricultural land on which there were deserted houses. Sanki Kohm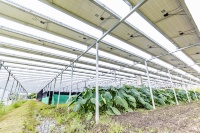 uten obtained the land, tore down the houses and reclaimed the land. On wisteria trellis-like mounting systems, 1,125 rectangular solar panels (output: 225W each) were installed in five areas. The company used its proprietary pile-based foundations and steel-frame mounting systems.
Under the panels, Colocasia esculenta was also grown. Sanki Kohmuten made arrangements so that sunlight does not come to the area of the logs (on which Shiitake mushrooms are grown) too much. And it appropriately provided stimulus by periodically watering and rearranging the logs to promote the germination of Shiitake mushrooms.
Due to the influence of typhoons, etc, the mushrooms germinated earlier than usual. And they are thicker than Shiitake mushrooms available in the market and very juicy, according to Sanki Kohmuten. They will be shipped as raw a
nd dry mushrooms.
Plants have photic saturation points. Therefore, when a plant receives too much direct sunlight, the light causes a negative effect on the plant. In view of this, Sanki Kohmuten appropriately adjusted the gap between solar panels. Because Shiitake mushrooms should be grown in shade and require moisture, sheets were used to further control the amount of sunlight.
Colocasia esculenta was planted in relatively sunny areas, and it is steadily growing, the company said.