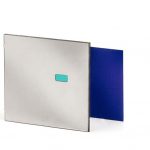 pvtech Nanoelectronics R&D organisation imec has reported a record 4-terminal Perovskite/silicon tandem photovoltaic cell with a conversion efficiency of 27.1%, while claiming further microcrystal engineering leads a path of efficiencies of over 30%.
Key to the new record cell was said to be due to perovskite microcrystals.
Manoj Jaysankar, doctoral researcher at imec/EnergyVille noted, "We have been working on this tandem technology for two years now, and the biggest difference with previous versions is in the engineering and processing of the Perovskite absorber, tuning its bandgap to optimize the efficiency for tandem configuration with silicon."
Imec noted that carefully engineered perovskite microcrystals minimizes the thermal losses that occur in the silicon cell, boosting efficiency.
The latest record tandem cell was said to deploy 0.13 cm² spin-coated perovskite cell developed within the Solliance cooperation and stacked on top of a 4 cm² industrial interdigitated back-contact (IBC) silicon cell in a 4-terminal configuration.
The R&D facility noted that scaling up the tandem device by using a 4 cm2 perovskite module on a 4 cm2 IBC silicon cell, a tandem efficiency of 25.3% was achieved, surpassing the stand-alone efficiency of the silicon cell.
Recently, Perovskite solar cell developer Oxford Photovoltaics (PV) reported a perovskite tandem solar cell record, certified by Fraunhofer ISE at a conversion efficiency of 27.3%.
Oxford PV's latest record for a 1 cm2 perovskite-silicon tandem solar, had also exceeded the 26.7% efficiency world record for a single-junction silicon solar cell.
Imec did not say if its 4-terminal cell efficiencies had been verified.