ecoinventos | Running out of battery in the middle of a meeting or in the office and not carrying the charger on it will no longer be a problem. The blinds that generate clean energy have already been designed, and they promise to make things much easier from now on.
The name of the product is The Solar Blind, and we can include it in those inventions that try to make our lives a little easier. Cutting-edge technology applied to something as mundane as our smartphones; and is that, although the Smartphone also try to provide us with the day to day, one of its main problems is the battery. With these blinds that will no longer be a drama; and that this design transforms such an everyday element into a source of clean and renewable energy that will recharge your phone's battery.
The Solar Blind is able to harness the energy of the sun to obtain electricity. The solar cells will adhere to each of the slats of the blinds. The blinds, thus, become a receiver capable of storing the sun's energy and converting it into electrical energy.
The invention in question, although it can be installed without problems in homes, is a great work tool for offices and extra for businesses such as coffee shops or hotels, because users can take advantage of clean electricity to power and charge their devices.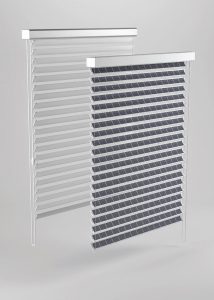 Yes, it is true that solar panels already do this function, but we can not deny that the assembly of this type of elements can be expensive, in addition, it is necessary to have a sufficiently large surface to be able to place the entire structure. With solar blinds that does not happen, because they only require a window with daily sun to be able to absorb solar energy and generate electrical energy.
Designer: Park Yonghwa, Lee Sang Jun, Hwang Ki Nam, & Lee Danbee.