Everybody knows, when it comes to selling a product or an idea little cheats can help. So we calculate future electricity revenue a little bit more optimistic. Temperature can surprisingly be more influentially in performance and durability than previously thought.
"And a lot of cash…I keep on telling designer that in hot climates, starting southern Europe, especially desert that + 2 to +3 modules have to be added per string to get rid of Mppt Voltage to low in 1000V Systems below 600 V critical in 1500 V systems 1100 V critical." Andreas Iliou on the paper linked below.
Short there are tons of ideas of how to lower Operation and Maintenance (O&M) of Photovoltaic Power Plants. Beside discovering early factors like soiling and defects this paper tries to take into account, that temperatures in real life are actually much higher than mostly calculated. So temperature Mitigation on the System level(I call it Mirror PV) is inevitable and research on the Module Level(Special Foils or TPV) and Cell Level(Nano Structures) must be a industry interest.
"Aside from conversion of sunlight to electricity, all solar cells generate and dissipate heat, thereby increasing the module temperature above the environment temperature. This can increase module and system costs by lowering its electrical output and shortening the module lifetime. We assess the economic impact of thermal effects on PV systems by establishing a temperature-dependent levelized cost of energy (LCOE) model. Using this model, we introduce an equivalent ratio, γ (with the unit of absolute efficiency %/K), as a new metric that quantitatively translates the LCOE gain obtained by reducing the module temperature to an equivalent absolute power conversion efficiency (PCE) increase. γ, most importantly, demonstrates that once the PCE approaches a practical upper limit, work on the control and mitigation of the module temperature can be equally or even more significant than costly marginal gains in PCE."
from the paper: "Heat generation and mitigation in silicon solar cells and modules"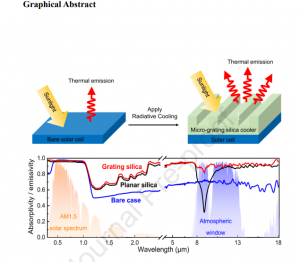 Temperature Coefficient A Calculator




Power in Watts (W) and Temperatur (C°) Calculation:

Temperature Coefficient B Calculator




Power in Watts (W) and Temperatur (C°) Calculation:
The radiative saving even increases with increasing temperature (which also explains the lower warming of the equator), which I did not take into account here because more research is needed.