Solar project solution provider GCL System Integration Technology Co., Ltd. (GCL-SI) and photovoltaic (PV) sector player Solarpro Holding AD have successfully delivered 21 MW Poly Perc modules for the construction of the MET Dunai Solar Park, one of the largest PV power plants in Hungary, according to a press release sent to the Budapest Business Journal.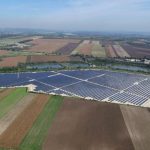 The park, located in Százhalombatta (about 23 km southwest of Budapest) partially on the site of the Dunamenti Power Plant, will produce enough electricity to supply around 9,000 households. Its two single sub-projects with 1,200 kWh/kWp specific yield have an estimated energy production of 25,546 MWh per year, says the press release.
"We will continue to expand our presence in Europe as we strive to bring green, renewable power to more and more people," said GCL-SI's CEO Xin Luo.
The park is owned by European energy company the MET Group, headquartered in Switzerland. The group has activities in natural gas, power and oil focused on multi-commodity wholesale, trading and sales, as well as energy infrastructure and industrial assets.
The group is present in 15 European countries, with more than 1,700 permanent staff in Austria, Bulgaria, Croatia, Hungary, Italy, Lithuania, Romania, Russia, Serbia, Slovakia, Spain, Switzerland, Turkey, Ukraine, and the U.K.
Solarpro and its subsidiaries are currently involved in the building of PV projects of over 120 MW in Eastern Europe, Egypt, Jordan and other countries. via BBJ