French renewables IPP Akuo Energy has started construction on a 17MW floating solar project in Piolenc, Vaucluse, southeast France.
Louis Driey, mayor of Piolenc, said: "The finalisation of this project is the result of many years of battles with the authorities to convince them of the value of this groundbreaking idea of a floating solar plant, the first – and currently only – such plant in France. The materialisation of this technological prowess that we have supported from the outset will make Piolenc the first 'positive energy' town in France, producing more energy than it uses".
The O'MEGA1 project, spread across 17 hectares, will supply power to the equivalent of 4,733 homes once operational. It will include 47,000 modules installed on a lake at an old Piolenc quarry. It will also include the latest generation of the Hydrelio floating structure from French floating PV specialist Ciel & Terre. Akuo Energy is the manufacturer and exclusive distributor of the Hydrelio product in France.
This project will also be built by EPC provider Bouygues Energies Services.
Akuo Energy has opened up the project's capital to local people. Thus the municipality of Piolenc has decided to invest alongside local residents to cash in on the project's profitability.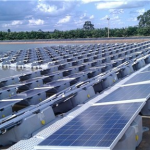 Eric Scotto, president and co-founder of Akuo Energy, added: "For Akuo Energy, O'MEGA1 is the culmination of a number of firsts: first floating solar plant in France, first time the Group has opened up a project's capital to individuals and a municipality, first bank financing for floating solar."
Natixis Energeco provided €12.8 million in financing for the project and according to Akuo energy, this makes it the first bank in France to provide non-recourse financing to a floating PV plant. via pv-tech.org